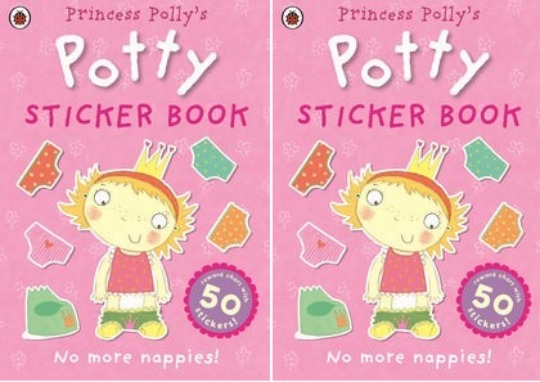 The Book People have a great offer at the moment on this activity sticker book, reduced from £3.99 to £1.99. While that's a bargain of itself, there's a free delivery code, valid until midnight,  and a 10% discount code, so you can grab the book for just £1.79 delivered. That's one less stress while potty training.
Let Princess Polly from The Book People help with the potty training*
Discount: Free Delivery
Discount Code: BOOKPOP
Discount : 10%
Discount Code : AFSAVER
Ah, toilet training. Kids are so different, aren't they! My two year old is just about ready, when she can be bothered, and thinks it's a great adventure, but most of the time she's too busy playing with her big sister to bother. Open the doors to the garden though, and she'll happily find a spot in the bushes. Oh, to remember that on her 21st!
With more than 70 stickers included, this updated interactive version of Princess Polly's Potty is even more suited to helping little ones feel confident and motivated when learning to use the potty.
They can join Princess Polly as they ditch their nappies and understand how to use a potty and wear 'proper' pants like a big girl!
You and your little one can add the stickers to the story and even fill in your child's own potty reward chart at the end if you wish.
You'll find these codes for The Book People and many others over in our voucher section.