My child makes me sound like one of those parents I used to roll my eyes at. I'm pretty certain other people roll their eyes at me. I'm okay with that. My child is that awesome. She came out the womb holding her head up. She started crawling at four months and walking at eight. She was talking by 15 months and at 27 months holds full conversations with full sentences, inferences and uses adjectives and adverbs correctly. The child is a genius. Who refuses to use a potty or toilet.
Everyone's got their faults, right?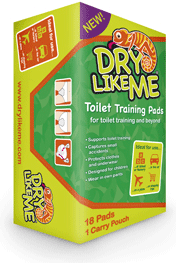 At eight months, she was 'going' on the toilet before and after every nap, and while her morning nappy was wet, we'd make it through the day without any further wet nappies frequently enough that I was getting into this 'Ellimination Communication' way of toilet learning.
Then we went away for a while – we went on an 8-week camping tour around England and Europe, and I never thought to take the potty along, and decided not to worry about it. Big mistake. My child is now totally toilet averse. She'll sit on the potty, pull faces and then stand up and do her thing next to it. She'll even sit on the potty to do her business, as long as she has a nappy on. Great.
I've tried almost everything to get her potty trained before the baby comes, and so far we're still not ready to leave the house… commando… so to speak, but we've found something that can help if you're almost ready to drop the nappies: Dry Like Me Toilet Training Pads.
These are not a nappy replacement, so you need to use them with a child who knows when they need the loo, and might just not be able to get there on time. They are basically sanitary pads, but for children, and with an absorbency of about 45ml – according to the package insert a 2 year old's bladder capacity is nearer 90ml.
In the box you'll receive 18 pads and one carry pouch – perfect for keeping a few in your handbag if you've moved on from the nappy bag stage.
Toilet training pads are soft to touch, almost velvety in feel, and unlike most sanitary towels, have no discernible smell. They have a peel off sticker bit which you can bin and the training pad fits inside the child's pant towards the front or back, depending on what you want to catch.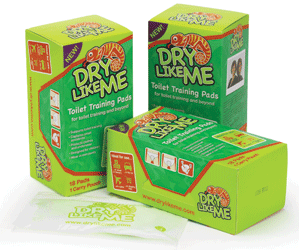 The pads were designed by mums to help make the transition between nappy and pants smoother. Just a few drops of urine can cause a large wet patch which is embarrassing and uncomfortable, so Dry Like Me pads serve to not only boost the 'success' rate of dry days, but also the psychological boost of that success rate. According to their own research trials wearing the pads reduced the number of accidents children had by up to 43% within one week.
The pads retain their shape during wear so your little ones won't end up with a horrible bunched up bit , which I'd imagine can be really uncomfortable.
Dry Like Me Toilet Training Pads are approved by ERIC, the Education and Resources for Improving Childhood Continence charity.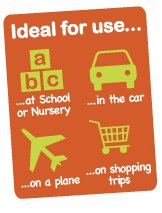 At £3.49 for 18 pads, they're not the cheapest product you'll ever use – especially if you're using two at a time, but as an aid to potty training you'll hope to only need to use them full time for  a week or so, and then use them as needed later on.
A benefit to them is if your child starts wetting later again, due to stress or illness or other circumstances, you can use them again and it's not as embarrassing as being put back into nappies, for example. Ideal also if they're supposed to be potty trained for nursery or school and are still having occasional accidents.
The Good
They have a good success rate in studies - I think my daughter is still just too young for them. They can be used easily and aren't obtrusive or uncomfortable, and don't have a smell.
The Bad
They're quite expensive, and don't contain enough urine if your child misses the toilet completely.
The Verdict
Overall I think they're a great product, and while I think we're not ready for them (I am – oh, I am, but we aren't) and I'll be putting them back in the cupboard for a few more months before we try again, I do think they're a wonderful idea and can see the benefits of Dry Like Me Toilet Training Pads for a whole new generation of potty trainers.