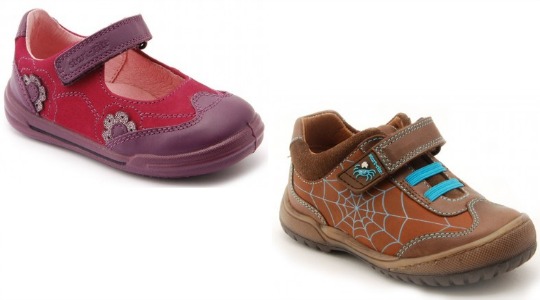 Start-Rite are right up there with the other great children's shoemakers Clarks. We LOVE them and even more so when we get them cheap. Let's face it, Start-Rite shoes aren't cheap unless you get them in the sale. It just so happens that they have Up to 50% off selected Children's Shoes just now. Yippee! As the seasons change it's sometimes a good time to buy lighter footwear. Having said that, don't turf away those winter boots yet, as it wouldn't be the first time we have seen snow in March.
I think the girls' selection is much better than the boys in the Start-Rite sale. However, there's a reasonable choice for the boys, and I have my beady eyes on a pair.
Here's my pick of the Girls' Sale Shoes: Flexy Soft Flower Girls Purple Leather First Walking Shoes*was £40 now £22, Scilla Black Patent Girls First Walking Shoes* was £38 now £19 and Super Soft Amy Stone Walking Shoes* was £36 now £15.
For the boys: Incy Spider Brown Leather Shoes* was £40 now £20 and Start-Rite Super Soft Sam First Walking Shoes* was £36 now £18.
Delivery is £2.99.
Thanks to affinityrob @ HUKD