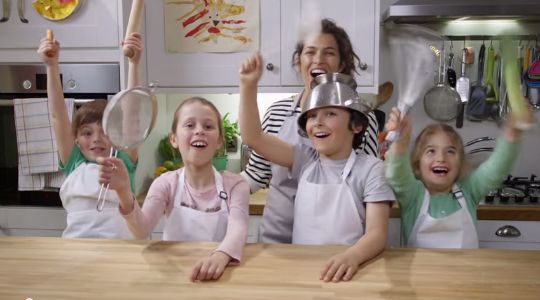 PLEASE NOTE THE COMPETITION IS NOW CLOSED!
Tesco are already doing lots to get children more involved in cooking and enjoying food (and hopefully being open to new ideas, us mums can hope eh?) It's a "long-term commitment" by them and as far as I'm concerned anything that gets kids interested and involved in the food they eat has got to be a good thing.
The Eat Happy Project includes free cookery courses around the country this summer and these have been hugely popular with you guys, loads of you have contacted us to let us know that you've booked a place for your child or children. You can check out the blog we did on those last month here*
So what's next? Well this summer "Let's Cookalong" which is something you and your children can get involved in at home. Each week Tesco will be posting a step by step video on their website, a "mix of meals, snacks and drinks" from Britain and around the world, and you'll be able to make these with your child at a time that's convenient to you. An ideal rainy day activity I think! There will also be certificates, games and loads of activities to accompany the videos and best of all for us parents, everything is FREE.
To celebrate the launch of "Let's Cookalong" Tesco and PlayPennies have teamed up to offer 5 lucky readers the chance to win a Hudl2 tablet, a child's Eat Happy Project apron and an adult's Eat Happy Project apron. Entering couldn't be easier, all you have to do is submit an email with your name, address and answer a question about which is your favourite food to cook with your children. The winners will be chosen at random and you have until Thursday 23 July at 11:59pm to enter.
So what do you think, something you and your child or children would like to get involved in and perhaps win one of five awesome prizes in the process?