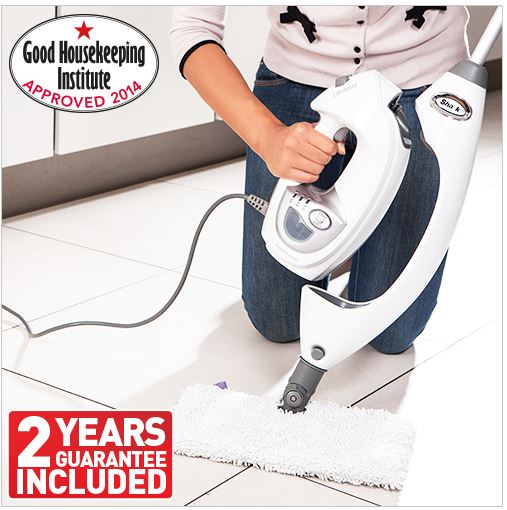 If you're getting ready to do a big lot of spring cleaning once the children are back at school, I have a huge big tip for you: You can save yourself hours of scrubbing and effort with the Shark Lift-Away Steam Pocket 5-in-1*(£99.99 instead of £149.99 at JML).
The Shark Lift Away Steam Pocket 5-in-1 is a really awesome cleaner. It works on carpet, tile, or laminate. It works on windows, counters, surfaces, and pretty much everything in the house. It works using no chemicals, simply just hot steam. I'll tell you more about that in a bit.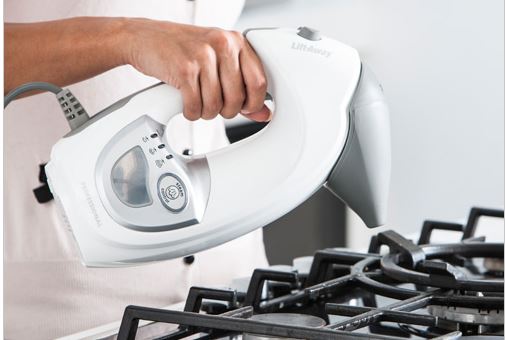 In your box you will receive the 'mop' bit, along with a carpet glider attachment, two microfibre pockets - the cleaning cloths - two scrubber bonnets, scrubbing brushes, duster pockets, a water filter bottle, a garment steamer and scrubbing pockets.
The mop comes in two parts -a standing steam mop with a handheld steamer built-in. It has two buttons for easy release, where you then either use it as is for steam cleaning, or add a fitting with a hose for windows and so on. It offers three settings – mopping, scrubbing and dusting – to help you remove dirt, dust and grime from all your hard flooring with ease.
The floor pocket has front and back side so you can clean twice as much before unclipping it for the washing machine. You then easily unclip the handheld steamer to swiftly clean countertops, cooker tops, sinks, taps, shelves, cupboards and all.
The steamer has three settings, as I said above, but you quickly figure out what does well with what. I put the 'highest' setting on for cleaning the stove top, or the lowest for cleaning that wall paper like fronting on cheap rented property kitchens.
The Shark Steamer is phenomenally good at cleaning. Considering you use absolutely no cleaning product, it's really, really awesome. You can walk out of a sparkling kitchen with very limited effort. As an example, my daughter and I made some Valentine's cupcakes with bright red icing sugar. As a 'helper' she managed to spill red food colouring all the way down the side of the counter top, all the way down the white cupboard fronts. I tried to wipe it up with a cloth, but it was too late and stained immediately.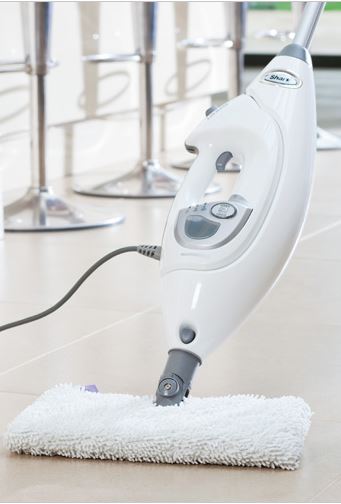 About a week later I received the Shark Steamer and thought I'd try it on the food colouring, not expecting much - lo and behold, five minutes later I had clean, stain free kitchen cupboards. I actually couldn't believe it.
While I wouldn't put any kind of cleaner in the water filter itself, I do like dropping some essential oil drops on the floor as I like the scent. The mop picks it up and spreads it around the room beautifully, all the while cleaning. It's brilliant.
There are two things I don't like about the Shark Steam Pocket cleaner though. The power cable is connected to the lift out hand held steam cleaning part of it, so  when you quickly and easily remove it from the standing mop, you have to take the cable with it. I find the cable gets in the way a lot, and kind of wish that the power connected to standing mop, and charged the hand-held so it would be quick and easy to move around with.
The other thing is that once you're holding the hand held steamer with one hand, and the nozzle bit with the other, your first hand holds on to the lever for getting the steam to produce. With two hands holding the steamer, you have to have cleaned your surfaces before you start, as you can't really move things around while you're cleaning.
On the up side, once you've put water in the filter and switched it on, you can start cleaning in less than 3o seconds, so getting started is quick and easy.
The Good
The  Shark Lift-Away Steam Pocket 5-in-1 is phenomenal at cleaning and leaving a room feeling sparkly
It is easy to use, and requires no running costs, like specific cleaners or detergents
You can have it to hand almost anywhere in the house, and grab it as you need it.
It is a 5-in-1 machine so it's space saving too, since it can replace other single use machines.
The Bad
I've already said what I think the bad on this is, so feel free to read above. It's not a deal breaker and we still use it. I don't know if there's something on the market that would fit my requirements, but even so, my 'complaints' are just a matter of opinion. As a cleaner the Shark Lift Away cleaner is fabulous.
The Verdict
Do I recommend the  Shark Lift-Away Steam Pocket 5-in-1? Sure! Would I buy it for a friend? If they were after a steam cleaner, for sure.