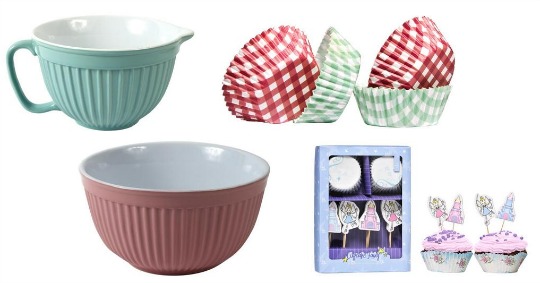 If you love baking with the kids, or for the kids, or have a kids party coming up soon, then you might like to take a peek at the Baking Sale at Dunelm. There are some lovely things on offer, from Mason Cash mixing bowls to kids themed cupcake cases and cake stands - and the prices start from just 34p!
The cheapest items are the kids bake ware, with packs of 100 patterned cake cases from 34p, and these come in several different designs like Rockets, Fairies, Hearts, Cupcakes, and more. There are also sandwich and cookie cutter sets from 69p, sets of themed Pirate or Cupcake candles for 99p, and matching cake stands for £1.99.
If you want more grown up baking then the Mason Cash Mixing Bowls are on my wish list, and at half price they are fantastic value for something so lovely and pretty, and there are lots more baking supplies to choose from.
The Up To 50% Off Sale offers started a few days ago and there are items from just about every department of the store included, so if you want bedding, furniture, kitchen supplies or anything else that Dunelm specialise in then it's worth a look.
Home delivery is available on some items subject to availability, or there is also a free Reserve and Collect service. Happy Baking. :)