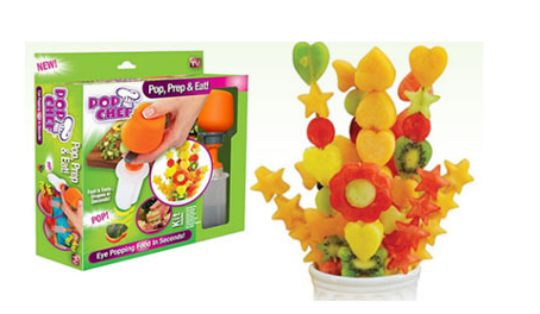 I will honest and tell you that as much as I love my kids, they don't get heart shaped sandwiches or star shaped cheese shapes. Sometimes, I think I should try make food more fun for them but I am put off with the though of faffing. There are gadgets that can take that messing around element away (slightly!) and one of them is called a Pop Chef Snack Maker. They seem to be priced between £10-£12 most places but Tesco Direct have them reduced to just £6.74 at the moment.
If you have a little one that has just started school and they aren't too interested in eating the boring sandwiches out of their packed lunch then perhaps this is one for you.
The Pop Chef Snack Maker can be used to turn fruit, vegetables, sandwiches and so on into funky, appealing shapes. They can also be used in sugarcraft and cake making too.
This is what you get for your £6.74: a bulb, 6 fun shape cutters (Butterfly, Flower, Sun, Heart, Circle, Star) 25 bamboo skewers and a recipe booklet.
You can Click and Collect the Pop Chef Snack Maker for FREE from a Tesco store near you or pay £3 to have it delivered to your front door.