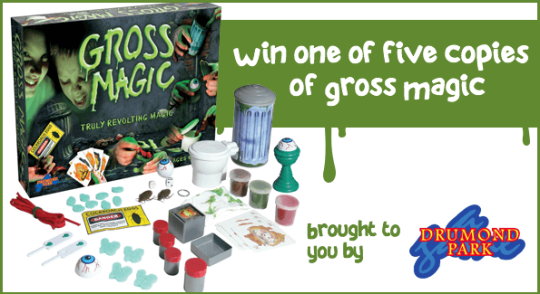 ******THIS COMPETITION IS NOW CLOSED******
With half term looming yet again and the weather still gloomy and dull, dragging your youngsters away from the lure of screens and electronics seems a trickier task than ever.  Help is at hand with Drumond Park's unique, Number One Best Selling GROSS MAGIC set (rrp £19.99).  It's bursting with highly entertaining, disgusting and shockingly skilful magic tricks which everyone aged about 8 and upwards can perform!
So what makes this ghastly set stand out as such a masterpiece of magic?  Now, where shall we start…  Well, for one thing, it's terrific value for money.  And for another it's got heaps of attitude… and it's definitely not for the squeamish or over sensitive.
Gross Magic is guaranteed to produce a hugely satisfying chorus of disgust and horror from your audience (victims?) with its truly gut-wrenching collection of props and tricks.  Think snot, slime, dandruff, toenail clippings, cockroaches and creepy crawlies, squashed eyeballs, and even… wait for it… a toilet full of poo.  Ewww… horrible!  But it's not all quite as dreadful as it seems…
Apart from being tremendous fun, the fascinating world of magic provides an amazing array of benefits for anyone who decides to take part.  Applying their minds to learning the intriguing skills of magic tricks and illusions will bring out the creative talents of anyone, while building self-discipline and a fine sense of achievement - and boosting self-confidence as they perform the tricks they have learned.
How to enter:
To be in with a chance of winning one of the five sets of Gross Magic , simply answer the question below:
Which one of these is a Gross Magic prop?
a.)     Elbows
b.)    Mobile phone
c.)     Dandruff
BONUS ENTRY RULES:
Recommend a friend. Get a friend to enter the competition and you both get TWO entries.
Tweet the competition. Include the link, tell your friends, share the link below and that nets you another entry.
Rules:
Contest ends on 19 February 2014
Open to UK residents only
One type of entry per household
Must complete email verification when subscribing
Must include a valid email address if commenting
Admin's decision is final in all cases