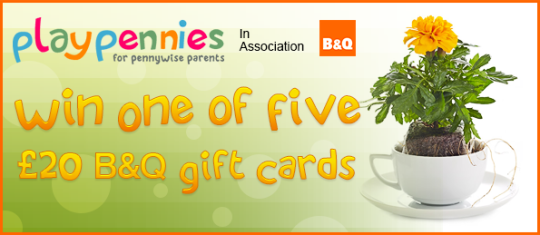 ****THIS COMPETITION IS NOW CLOSED*****
How would you like to win £20 to spend at any B&Q* across the UK? How would you like this to be as easy as answering one simple question (below) and entering your answer into our comment box? Yes, yes, I thought so…
This is an epic competition that PlayPennies is running with B&Q as part of their launch of easyGrow™. This is the kind of gardening solution I need actually, I tend to kill plants just by walking past them, and if you are like me but desperately want gorgeous blooms, then this could be exactly what you need.
B&Q easyGrow™ uses a cool thing called Teabag Technology™ where the roots are wrapped in their own self-contained bag so you can just pop them straight into the soil and you're done. The fragile roots are all protected by the biodegradable bag and the packaging is 100% recyclable too so you are greener all round.
B&Q has around 20 different easyGrow™ bedding plants available with the new B&Q Teabag Technology™ so there is lots to choose from too.
How to enter:
To be in with a chance of winning this amazing prize, pop on over to the B&Q website and find the answer to the question below. THEN come back here and put your answer into the comment box.
How much packaging does the new B&Q easyGrow™ solution save compared to traditional polystyrene trays?
1. 100%
2. 25%
3. None 
BONUS ENTRY RULES:
Recommend a friend. Get a friend to enter the competition and you both get TWO entries.
Tweet the competition. Include the link, tell your friends, share the link below and that nets you another entry.
Rules:
Contest ends on 12 May 2014
Open to UK residents only
One type of entry per household
Must complete email verification when subscribing
Must include a valid email address if commenting
Admin's decision is final in all cases