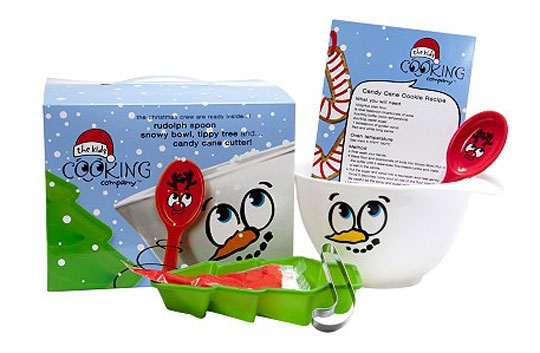 No you're not seeing things, I really am posting a deal for this Kids' Christmas baking set in February with 299 days still to go before 25 December!
The thing is, and this is the only defence I have, it's a LOVELY little set and you can pick one up for £5, instead of its usual £25, then stash it away - the trick with doing that, of course, is to remember a) that you have it and b) where you put it.
I've had as close a look as I can to see whether there's anything included in the set that is going to have a pre-December 2012 expiry date,  the only candidates are the two tiny packs of red and white icing and they're not going to be difficult, or break the bank, to replace.
The other bits and pieces included in the Kids' Christmas baking set are:
A white mixing bowl, decorated with a cartoon snowman face
A red mixing spoon, decorated with a cartoon reindeer face
A tree mould
A candy cane cookie cutter and
A wipe-clean recipe card
I'm really rather taken with this Kids' Christmas baking set - my youngest son loves baking with his dad so, you know, I might just buy this for them and set a diary alarm on my phone so I don't forget to give it to them in 10 months time!
Thanks to wishihadadonkey at HUKD