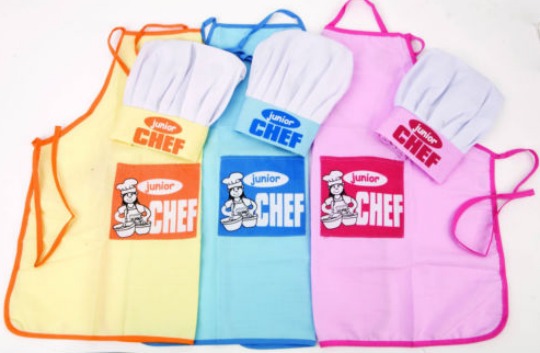 Have you been watching this years Comic Relief Celebrity Bake Off? The kids and I have been viewing it, and it's put us right in the mood for doing our own little Bake Off.  I was looking for different coloured aprons for the boys and came across these Junior Kids Chef Set Childrens Apron and Chefs hat on eBay. It's being sold by reputable seller switchsocketandsupplies for just £3.43 and that includes FREE delivery. Cheap as chips and exactly what I was looking for with the bonus of a hat.
Being honest there's plenty of children's aprons on eBay but I prefer to buy in the UK from a reputable seller and switchsocketandsupplies fit that criteria.
The Junior Kids Chef Set Childrens Apron and Chef Hat is a two piece set and are available in three different colours. Those are pink, blue and lemon ( looks more orangey on the picture than yellow).
Both Chef's Hat and Apron are made of 100% Polyester. The apron features a front pocket and tie waist straps. The hat measures 42cm round so should fit most little ones.