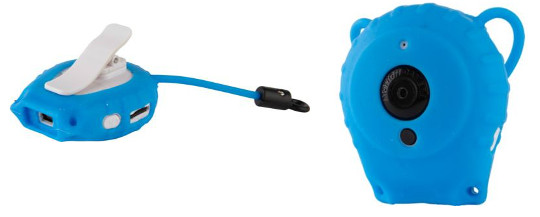 A while back I reviewed the Zinc Nitro Scooter here on PlayPennies. I finished off by saying "I think at the price, there's just nothing wrong in this Zinc Nitro scooter. It should provide hours of fun, good exercise, and a fabulous excuse for getting outdoors. It'll look great under the Christmas tree too." If you took my advice your little one will have been using their scooter gleefully for about a week now and will probably be ready for the next step: recording their escapades.
So let me introduce the Red-I Micro Camcorder*, also from Zinc.
The Red-I is a small micro recorder, smaller than the palm of your hand, and very light too. It comes with the camera itself, a clip for attaching it to clothes, and a rubber pouch with straps for attaching it to something else, like handle bars. It also comes with a charging and data cable so you don't have to add the expense of batteries to your camera. It couldn't be easier really: pop the camera into the rubber pouch and click in the clip. The back of the pouch is open so you can easily add or remove the clip too, depending on what you're attaching the camera to.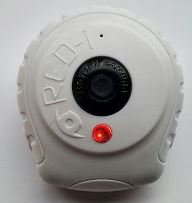 The clip would be best for clothes or bags, and the pouch with straps would wrap well around a bicycle helmet or scooter handlebars.
The Red-I itself is made from a tough plastic with very few extra features. It has the lens that captures in 720x480 HP resolution below a microphone. On the bottom edge there is a mini USB port and on the sides there's a power switch to the right and the record button to the left. Above that is a slot for a microSD card, which isn't included, but if you're anything like me you have a bunch lying about from old smartphones.
The Red-I doesn't have any on board storage, but your microSD card will take care of that.
The Red-I has four light notifications: flashing red means it's recording or saving, constant red is the camera on standby, rapid red flashing means it's time for charging and the green light means it's fully charged.
So it's really easy to operate and figure out.
On opening the camera has a teeny bit of charge, but will need charging pretty soon. That takes about 30 minutes to an hour, but then you have a good two hours to use it.
Obviously, I'm no skaterboy and my kids are pretty young, so where would I use a camera like this?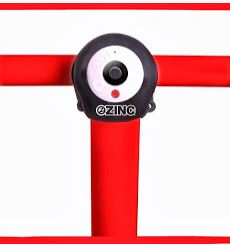 Well, it's not a replacement for your home videos and it's not  really something you'd use to capture candid moments. Video quality is okay - not perfect, but okay. It is perfect, however, for cycling or scootering, so you if have a particularly eventful school run you'd like to remember for posterity, use it on that. If your little one is getting into 'tricks', ditto. Or if you have an awesome family cycling holiday somewhere coming up - same thing.
It's perfect for anything that requires you to be hands free, basically - like blackmail dance videos at someone's wedding.
There's really all sorts you could use it for and if nothing else, your little one will probably love seeing their afternoon walk on video.
Coming in at £29.99, Argos is selling them in blue*, ours is red and I've seen pictures of a white rubber case, but I can't seem to find the red or white on sale anywhere at the moment.
The Good
It's not a terribly expensive camera, so I wouldn't fret over letting my children use it.
It's hardy, robust and the pretty fabulous for what it is.
I love that it comes with the accessories - cable, clip and case. So many other options require you to purchase those things separately.
The quality is pretty good, and certainly fit for purpose.
The Bad
It's hard to find on sale at the moment.
It isn't waterproof, which for an outdoors camcorder in the UK is limiting.
The Verdict
The Red-I Micro Camcorder from Zinc is really fun and can stimulate a whole new side of entertainment and hobby for a child. It certainly encourages them getting outdoors and active, and does not cost a fortune. You don't have to have a Zinc scooter for it to work - it works with anything it can clip to and requires only the most basic of computing software to use. Consider whether you need a converter for the microSD card to the card slot on your computer, and you're good to go.