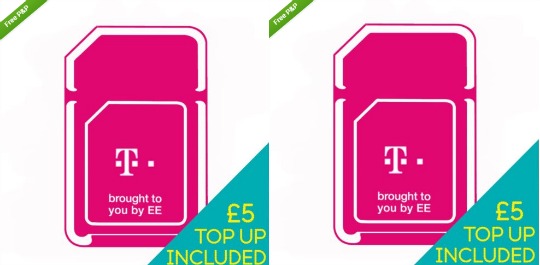 We realise that a LOT of you won't be buying toys as such this year but gadgets and techy "stuff" like mobile phones. My eldest wants a mobile phone and we will be getting him one, but NO WAY am I getting him a contract phone. If he wants to us his phone, then he will have to earn pocket money to buy the credit. Pay As You Go is a popular choice for parents buying children their first mobile phone and we have found this cracking little offer. For just 99p delivered, from eBay seller: ee-uk-shop you can get a T-Mobile PAYG sim card that includes a £5 top up, so your quids in before you have even started!
Now chances are the Pay As you Go phone that you buy for you child will come with a sim card, but if the phone you have selected is compatible with T-Mobile then get this just for the £5 credit!
If your child has asked for a phone but you'd like to try them out with an old mobile first, then grab one of these and try them out. If they break it or lose it, then DO NOT waste your money on a new phone!
Here's what ee-uk-shop have to say about this sim:
Get the minutes, texts and data you need in one awesome value pack. Buy a Smart Pack and start enjoying the whopping allowances straight away, for 30 days. Choose the pack that's right for you. get the most from your phone with our fantastic value Smart Packs. There's a range of packs to pick from, all offering fantastic value. For example, buy a £10 pack and you get a massive 1GB data, 400 texts and 100 minutes. Once you've bought your first Smart pack, we automatically add the same pack to your account every 30 days.
Please note that you can only buy two units in the space of three months, per household.
Thanks to younisb1 @ HUKD