The Slendertone Bottom Challenge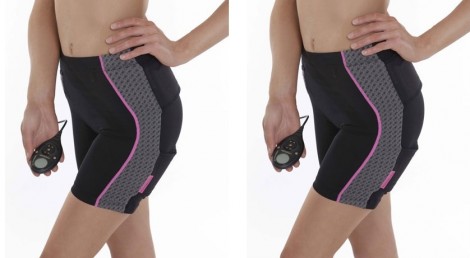 I was recently asked to participate in the Slendertone Bottom Challenge, probably because the lovely people over at Slendertone had seen all my attempts at weight loss and thought that I needed a helping hand.
The premise is simple. I was sent the Slendertone Bottom training set, a pamphlet of extra exercises, and told to use the product for 30 days while documenting the results.  I was rather excited. I've just climbed onto a diet and wanted to get the rest of me in shape at the same time, and I have always wanted to try one of these things. They strike me as a lot of fun as well as faintly mad.

When the kit arrived I spent some time familiarising myself with the instructions. The attached booklet gave me five extra bum toning exercises that I was to do in conjunction with the Slendertone machine such as leg lifts, hip raises and lunges. The programme increases in difficulty each week alongside the settings on the bum toner itself.
Brilliant. So, on Thursday morning I did my measurements, ignored the instruction to start on a Monday, and kicked off with the exercises. The measurement is simple enough – one across the biggest part of my bum and it was a hefty 39cms. I've put on a lot of weight recently…
The exercises were also really easy and, in spite of my running regularly, did cause me a bit of pain. I was surprised actually, they didn't seem very hard but they worked those muscles pretty well.
Then I started to unwrap the kit. You get this electric remote control that's shaped like an egg and fits into the palm of your hand. It's very compact so it won't get in your way and you can "lock" it while it's working to prevent bumps and accidental thumps from changing your programme while you're working. It also needs to be charged overnight before you can start using it.

Fortunately I had done that so I then unwrapped the pants. Oh yes. The Pants. These skin tight trousers are a cross between running shorts for skinny fit people (i.e. tight fitting) and those embarrassing garments you get when you go to the hospital.  There are four large "holes" at the back which are sealed by flaps that have the electrodes and pads attached to them, so when I first put the pants on there were flaps hanging wild and free and bits of me doing exactly the same thing. When my husband wandered into the lounge while I was doing this he uttered a small scream and ran out again. Poor thing.
I then had to apply the four pads to the flaps, make absolutely sure that the holes were in the right positions (you have a diagram to follow which, when your head can't turn 360 degrees, is quite hard to do) and then close the flaps. This took a while. If you start the programme with the electrodes in the wrong positions, the shocks can be very unpleasant.
However, it wasn't an agonising process and soon everything was in place and I was ready to go. For 20 minutes I sat on the sofa with an electric current zooming through the muscles on my bum. My child thought it was hilarious, my husband had left to find a therapist, and I was visualising Cameron Diaz's butt.
So, I will now be doing this five days a week with two days rest for a month. Next Sunday I'll let you know how easy it is to stick to the programme when you have kids and work and house stuff to contend with, and give you the first week's measurement results.