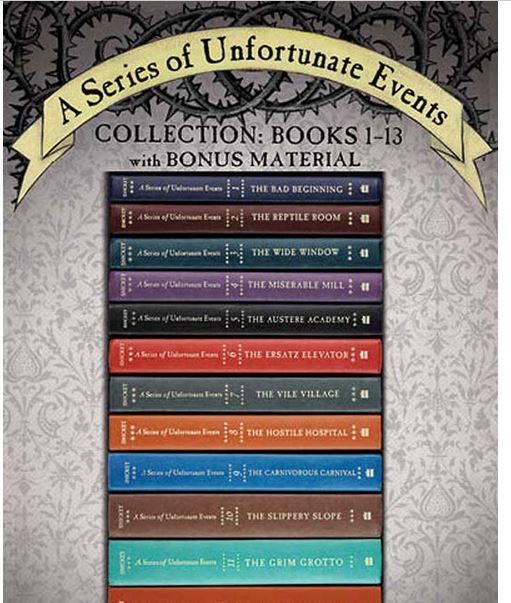 Amazon Kindle have an offer on the 13 book A Series of Unfortunate Events Collection. It's selling for £4.99 whereas the paper version is almost £40.
While I agree with those who say there's nothing quite like the feel of paper under your fingers when it comes to reading a great book, I also know that the space books take up in our house - my husband cannot get rid of a single book he's ever bought! - means I'm quite happy to move to e-reading. Also, as a mumI find the Kindle invaluable, as it's just always with me, and I have my library at my fingertips. I love that.
A Series of Unfortunate Events is a whacky and engaging series for both adults and children from around 8 years old. There are plenty of reviews for the series on Amazon, and everyone loves the Baudelaire orphans and their outsmarting of the evil Count Olaf.
I particularly liked the reviewer who said "Great set of books, fantastic series. Really recommended. A different series to all the girly fiction and supernatural series that are currently available. great for boys and girls."
Seems like the perfect set for bedtime reading, but if you're not sure, you can actually read the entire first book in the sample, so download it, and (hopefully) develop a healthy addiction.
Thanks to NotSoNormalBen at HUKD