Review: Support and Protect with Exspect
Exspect (they make fab accessories for gadgets) have got together with Breast Cancer Campaign and produced a customised pink or black 'diamante scattered' leather iPhone cases or silicone skins.

Breast cancer is now the commonest form of cancer in the UK and it affects men as well as women.  The most recent year for cancer incidence statistics is 2007 and they are frightening*.
in 2007 almost 45,700 women were diagnosed with breast cancer (around 125 women a day)
277 men in the UK were diagnosed with breast cancer in 2007
Female breast cancer incidence rates have increased by around 50% over the last twenty-five years
In the last ten years, female breast cancer incidence rates in the UK have increased by 5%
8 in 10 breast cancers are diagnosed in women aged 50 and over
In the UK in 2007/2008 the NHS breast screening programmes detected more than 16,000 cases of breast cancer
The NHS breast screening programme in England saves an estimated 1,400 lives each year
Worldwide, more than a million women are diagnosed with breast cancer every year
Each year in the UK around 12,000 women and around 70 men die from breast cancer.
Each year there are around 1,300 deaths from breast cancer in women under 50
The sheer scale of these numbers and the improvements in early detection and survival rates shows the positive effect of research into breast cancer and how important it is that these charities continue to receive funding from people like you and me.
Exspect gave us a cover to review and we passed it on to one of mums with an iPhone (obviously) to put it through its paces.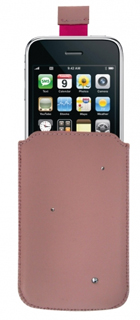 "The iphone cover I received is baby pink with three little diamante studs on the front; 10% from the sale of each one goes to Breast Cancer Campaign and at £19.99 it's not exactly cheap but I'd consider it money well spent," said Heidi.
When asked what she thought about how the cover looked and felt she went on to say, "It's made of ultra-soft Nappa leather and it certainly has that delicious expensive smell! Apparently the diamante studs 'are sure to add an extra touch of style to any fashionista's wardrobe' but I have to disagree - I hate diamante with an irrational passion!"
Even though Heidi wasn't a fan of the diamante studs she was a very impressed by the practical design of the Exspect cover, "What I absolutely LOVE about this phone case is the pull-release mechanism - basically a cleverly designed strip of hard-wearing shocking pink fabric which you just yank on and the phone slides out."
I have to say there are few things more frustrating than wrestling your precious iPhone in and out of protective covers only to have it fly out of your hand and go skidding and scuffing along the floor sustaining cosmetic or critical damage!
"This cover solves that problem completely," says Heidi, "and I reckon they should make a bigger deal of that on the packaging - it's a genius touch and that alone will make me a convert to this item despite the damned diamante." (I don't think she liked the diamante!)
With more to say about the cover, Heidi went on to comment, "The cover fits the phone perfectly - it's bigger than the cover I own so offers a bit more protection and seems like a more snug fit which is also an improvement on mine.  Living on the Coast I end up with seashells in my pockets all time and it drives me mad to find grains of sand have made it inside the phone cover,  I haven't tested this but it doesn't look like that would happen with this one." Well that's excellent news for all seashell and other shoreline detritus collectors then!
On the back of the packaging there are 'Guardian Angel' notes about how be breast aware, "They've pitched this well so it doesn't terrify you," says Heidi, "but I think it's brilliant that that kind of information is being dispensed on products that are considered fashion accessories for young girls."
And I wholeheartedly agree with her!  The statistics make for sobering reading and the more everyday products or 'cool accessories' can be used to raise awareness the better.  It costs nothing to check yourself over and be breast aware, sticking your head in the sand and hoping it won't happen to you or anyone you know could cost lives.
If, like Heidi, the diamantes don't do it for you or you don't have an iPhone (a rare breed indeed!) then one of  these special covers could make a lovely gift for one of the special iPhone women in your life - mother, sister, wife, girlfriend and will show them you care about them being breast aware.