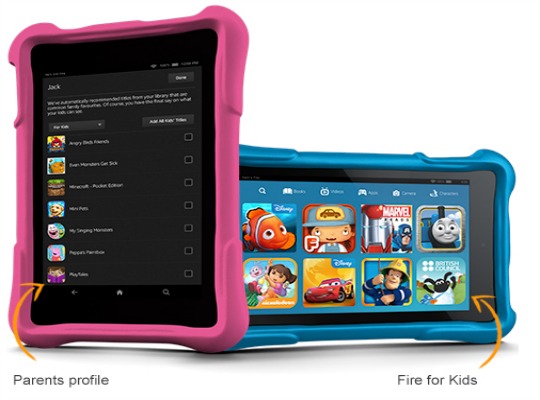 Needing a tablet for the kids? Head on over to Amazon where you can pre-order the Fire HD Kids Edition Tablet for just £119 (with FREE Delivery) from Amazon. You might be thinking that there are cheaper Tablets out there and you would be right, BUT this isn't your run of the mill tablet. Amazon say "if they break it, return it and we'll replace it for free. No questions asked."Where can you get such a promise? NOWHERE! This isn't out until the 18th of this month so bear that in mind.
Here's what you get for your £119:  Fire HD 6 tablet, One year of Fire for Kids Unlimited, a Kid-Proof Case, and a TWO year worry-free guarantee. That guarantee is worth it alone. Kids and tablets can spell disaster but with this assurance for TWO YEARS that if they do have an accident with it, that you will be sent another one is a Godsend.
The Fire HD Kids Edition tablet itself is black, but comes with a blue or pink Kid-Proof Case, 8 GB or 16 GB of storage capacity and a 6 inch display. The cameras are a 2MP rear-facing and a forward facing one for any video calls to relatives or faraway friends.
Seriously, go over and have a nosey. This has certainly piqued our interest.