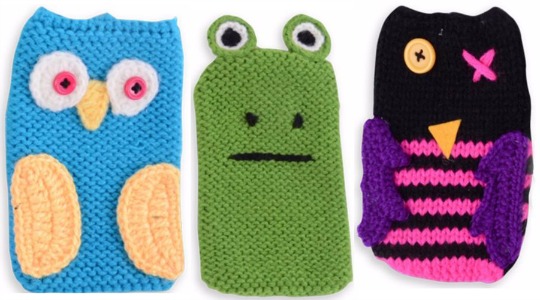 Have you kids got a mobile phone? If you want to minimise the risk of smashed screens then you need to get them some sort of cover for it. Tesco Direct have slashed the Novelty Knitted Phone Covers from £4.99 to just £1. That's mega cheap, that's not all though, you also get FREE delivery too.
These Novelty Knitted Phone covers are a colourful way of looking after those mobile phones. At least the screen has a fighting chance of not smashing if on of these is covering the phone.
I think for £1 delivered these are the affordable option. Plus kids will love them. They are all cute and bright, just what appeals to them. I reckon some teenagers might even buy into the quirkiness of these.
They are made from Acrylic Wool and will fit most phones around the size of iPhones. I don't think that there will be many phones that won't fit as I would imagine these are stretchy.
I will be grabbing a couple of Green Frogs for my two eldest sons, who are frog daft.