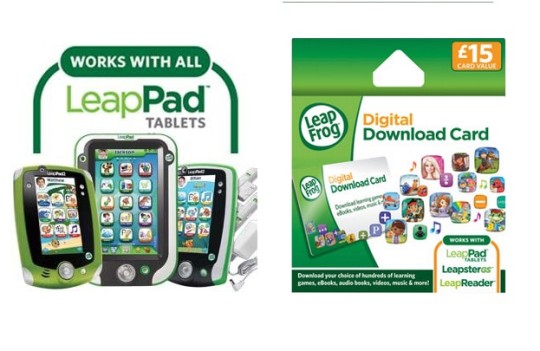 Amazon are selling the LeapFrog Explorer App Centre Download Card for £7.46 instead of £15. Annoyingly, you still have to pay £3.30 delivery on that, making your order £10.76, so you're better off buying two at £14.92 delivered, for £30 worth of content.
The LeapFrog App Centre Download Card makes it easy to give a gift you know kids will love: more content for their LeapPad, LeapsterGS/Explorer, or LeapReader learning system. Choose from hundreds of fun educational games, ebooks, videos, music, apps, and more, all of which are created or approved by LeapFrog learning experts.
Each card is redeemable online for £15 worth of content for the LeapPad Ultra, LeapPad2 Power, LeapPad2, LeapPad1, LeapsterGS, Leapster Explorer, or LeapReader so there's a lot they can use the money up on.
One of the Amazon reviews was quite helpful, saying to use it, you simply plug your LeapPad into your computer, open up the app store and click on the 'redeem' link where you'll be asked to put in the code found on the back of the card. You can use this instead of cartridges that just end up getting lost, and you can put five devices on the same account too.