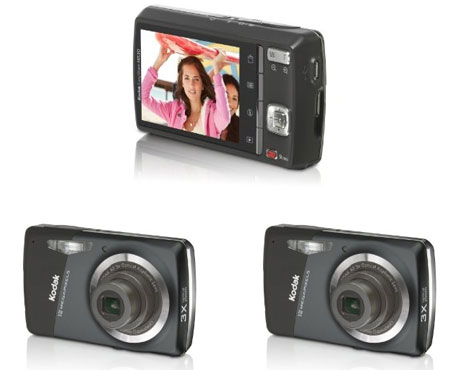 Amazon are selling this Kodak Easy Share M530 12MP Digital Camera for less than half price - £49.99 instead of £119.99.
This is a nifty little camera if your kids are after one and you're not quite ready to let them run riot with your much more expensive photographic device.
I bought my youngest something similar for Christmas; he's almost five and whilst all the plastic fantastic cameras for kids are ok, he has quite an eye for a good shot and is showing promise as a rather nifty little 'tog.
As a photographer too I'm more than happy to develop this talent (ohh yes, that pun was completely intended) and want to teach him how to look after his kit from the word go and not get used to using and abusing it.
This Kodak Easy Share M530 digital camera has a one-button upload function to YouTube™, FACEBOOK, Flickr and KODAK Gallery sites, plus emails too.
It will help you take better pictures with Kodak Smart Capture technology and you'll be able to find photos more easily with face recognition technology.
It has a 3x optical zoom with blur reduction and face detection, along with 12 Megapixels and 2.7 inch LCD screen.
Reviewers are more than happy with it...
"I bought this Camera for my 9 yr old Granddaughter as a Christmas present, it works well and can be used simply or more complexly if she develops an interest in photography. It is small and compact and produces a good image"
"This lovely little kodak camera was a gift for my teenage daughter, it is really light weight, funky colour, easy to use and share to facebook etc, my daughter is over the moon and i am too, wish i bought it for myself too."
One word of warning - the Kodak Easy Share M530 doesn't come with a memory card and will only store about seven photos on it's internal memory, so you'll need to by an SD card too.
Thanks to A2tharon at HUKD