FREE Kindle Book With Email Sign Up @ Amazon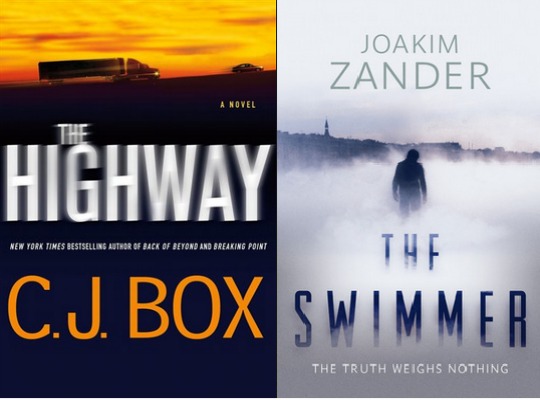 Like to read on you Kindle? You will like this amazing FREEBIE from Amazon then. Get a FREE eBook for your Kindle buy signing up for Kindle Delivers Newsletter Emails from Amazon. The good thing is that these books are available to buy for 99p to £2.99, so this isn't some rubbish FREEBIE, this is actually pretty good.
To get you FREE Kindle Book just click the link above and click on "Sign Up". It really is as simple as that!
There's a choice of FIVE Kindle Books to choose from: The Lie of You: I Will Have What Is Mine by Jane Lythell, The Swimmer by Joakim Zander, A Morbid Taste for Bones (Chronicles for Brother Cadfael Book One) by Ellis Peters, The Highway by CJ Box and The Mangle Street Murders (The Gower Street Detective Series Book One) by M.R.C Kasasian.
Four out of the five Kindle Books are priced at £2.99 and The Swimmer by Joakim Zander would only set you back £1.19 if you were to buy it from Amazon.
Terms and Conditions as stipulated by Amazon:
1. The "Free Kindle Book" promotion applies to selected Kindle books and runs from 12:00 am on March 17 2015, to 11:59 pm on April 13 2015 (the "Promotional Period").

2. If you subscribe to the Crime, Thriller & Mystery Newsletter or Kindle Daily Deal Newsletter during the Promotional Period, we will email you a promotional code which you can use to download for free one Kindle book from a selected range displayed at the point of redemption (a "Qualifying Item").

3. Offer is limited to one Qualifying Item per customer and is not redeemable for cash.

4. Offer may be changed or withdrawn at any time without notice by Amazon.co.uk and has no cash alternative.

5. You must enable 1-Click purchasing and complete your purchase of the Qualifying Items during the Promotional Period in order to receive it for free.

6. Offer only applies to Kindle books purchased at Amazon.co.uk. It does not apply to Kindle books purchased from any other website.

7. Standard terms and conditions apply to use of the Amazon.co.uk website, including the Kindle Store Terms.

8. This promotion is only available to customers who have received a promotional code via email and who haven't previously subscribed to the Kindle Daily Deal Newsletter.
Thanks to Dryosh @ HUKD