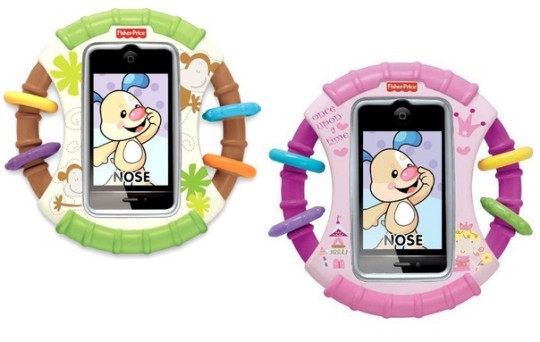 Netpricedirect on eBay has a great price on the Fisher-Price Laugh & Learn Apptivity iPhone Case - it's available for £3.99 and with delivery it's £6.94. This looks like a great price to me, as it's over £10 everywhere else.
These are really fab little things if you have a small person who likes messing about on your iPhone.
It won't stop them from deleting, moving or otherwise rearranging your phone, but it will help protect it a little when it gets dropped, thrown and bounced around.
This Apptivity case is good for the  iPhone, iPhone 3G / 3GS, iPhone 4 /4S, iPod touch 2nd, 3rd and 4th generation but won't help with the newer phones as it's the wrong size.  It's great with it's busy beads and a mirror to add baby-appropriate play.