Crayola Case Creator And Crayola My Phones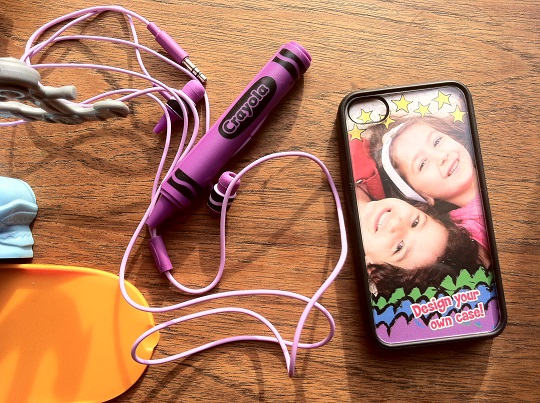 Griffin Technology have a great range of cases and other accessories for iPhones, iPads and other devices. They have now teamed up with Crayola to make some rather nifty looking accessories aimed at younger users. Although to be honest, I think that they'll have a lot of attraction for older users too!
We received the Crayola Case Creator, and the Crayola My Phones earbuds, for the iPhone 4. You can read on to find out a) what these are exactly, and b) whether they were any good.
Crayola My Phones Earbuds
The Crayola My Phones earbuds (£14.75 at Amazon*) are earphones designed for younger listeners. The unique feature on these, apart from looking like a crayon, is that the earphones cannot be turned up to levels that are too high for young ears. Specifically, the volume is limited to 85db.
They come in a range of bright colors - Purple Pizazz, Cotton Candy, and Caribbean Green, all bearing Crayola's iconic design. There's a carry case, which has a Crayola crayon design so convincing I keep putting the darn thing away in son's craft cupboard.
There are different sized earbuds in the container. Although the site describes this as a carry case, it is really only for the bud bits. The wires don't fit in there. But it keeps the buds protected and safe from dirt, and I just twist the cord around the case.
As you might guess, I'm the one who is using these headphones. Not even the great design is enough to entice my son to stick something in his ear. As he gets older though he'll want to swap the headphones that sit on his ears for the less visible ones that go inside. For now though I'm stuck with the pain of having to keep an eye on the volume levels when he is on my iPhone. Given any opportunity at all, and he turns the volume up full whack. I'd find that painful myself. What can I say? Kids of today!
Pros: fabulous design, work well with iPhones and iPads, nice case
Cons: nothing really. I'd like to be able to put the cord inside the case but then I don't know where I'd put the spare earbuds. I don't think it would fit, and I am not sure I'd like the case to be bigger.
Overall verdict: 9/10
Crayola Case Creator
Although the Crayola Case Creator (£24.90 at Amazon*) is aimed at kids, I think this is a cover and app anyone would like. I'm thinking it would actually make a fun Mother's Day gift as you could get the kids to make up an insert for mum to put on her phone.
I have to say though, I was a little 'ouch' at the price tag of a smidge under £25. Especially when you can get an ordinary cover for just a few quid. What you get in the box is the case itself, which is rubber around the edges with a tough, clear plastic rear. And you get perforated inserts that you are able to print directly on to.
You can also download the Case Creator app for free, although as far as I could see that's a free app for everyone.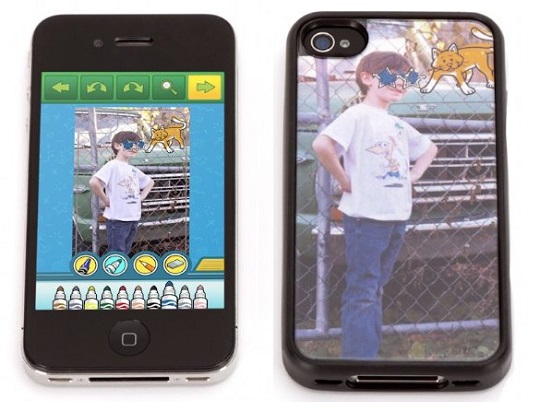 I liked the Case Creator app. I installed it on my iPhone 4, and it has been something my son has enjoyed using to just play around with. You're not restricted to just using the cover template. It does ask if you'll be printing to the supplied perforated paper or not.
There's two options, to create your own doodle, and to use a photo. Both are easy to use, there's really no learning curve. And it does keep my son occupied without having him switch to Angry Birds Star Wars, so a double result!
The case does fit really well, snugly hugging the sides of the phone, and the rubber does make for a nice grip. My son's drawings on the back also make for an interesting talking point when I'm out!
Pros: easy to use, fun app, a good amount of perforated inserts, a robust cover
Cons: the price
Overall verdict: 8/10