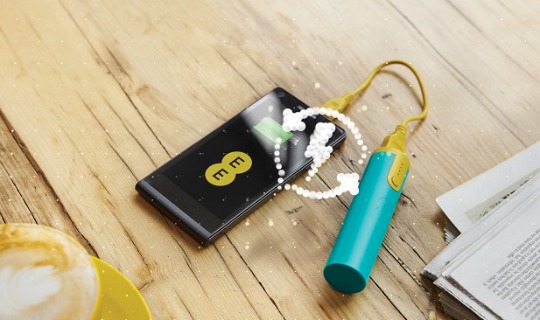 Are you an EE Customer? If the answer is yes then you should be eligible for a FREE Power Bar. Even if you are a Pay As You Go Customer you can get your mitts on one. What's a Power Bar I hear you cry? Well, you know when you are driving at night, breakdown and your phone is dead? Ever thought there should be a device to give you that bit of battery to oomph your phone until you make that emergency call? That's what one is.
***June 24th from 8am*** If you use up a Power Bar but still need more, you can able to walk into any EE store and have the used battery pack swapped out for one that is already fully charged.
How does one claim a FREE Power Bar?  Text POWER to 365 and you will be sent a special claim code. Take that code down to an EE store near you and they will give you one. Hold your horses though as it doesn't start until the 16th April.
For broadband customers, they must text JOIN along with their EE landline number to 60005 and follow the instructions that follow. You'll then be sent a redemption code that needs to be presented to an EE rep at one of the network's stores in order to pick up the Power Bar.
Please note, we think that the text to get your Claim number costs 35p, so remember to factor that in.
Thanks to sunilm @ HUKD