Sleep Tight Travel Cot £29.97 @ Kiddicare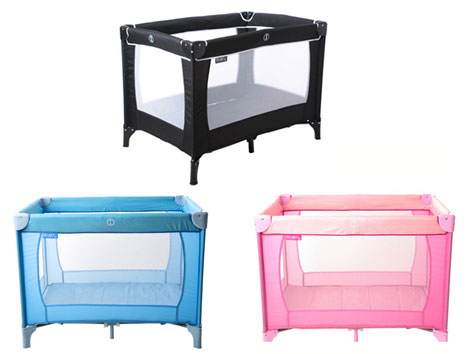 Kiddicare are selling this PINK,  BLUE or BLACK Sleep Tight Travel Cot for £29.97; the full rrp is £59.99.
Travel Cots are the most genius invention and one of the things I'd put on my 'must have' baby items list if I were ever asked to write one!
They can be a little bit pricey and it's easy to get sucked into the little extra bits and pieces that manufacturers will have you believe are essential; but you don't NEED the hanging toys, the bit that plays 10 of the most popular nursery rhymes or flashing lights; honestly, you don't.
This Sleep Tight Travel Cot is nice and simple, does what it needs to do and as a result the sale price of £29.97 is pretty spot on (the rrp is a bit OTT in my opinion), it's suitable from birth to approximately 15 kgs.
It's got padded rails, comes with a padded foam base - this is NOT a mattress, you can buy one of those if you wish but in my experience a few extra blankets suffice.
The Sleep Tight Travel Cot folds up into it's own carry bag, has see-through mesh panel sides and weighs a mere 9kgs.
Now, the Sleep Tight Travel Cot comes in BLACK, PINK and BLUE and is so popular that it's currently on pre-order - the shipping date is 9 March 2011, just 10 days away (how can it be March already, we'll soon be writing Christmas deals again; crazy!).
Happy Travelling.