Hauck Winnie the Pooh Dream and Play Travel Cot £39.99 @ Babies R Us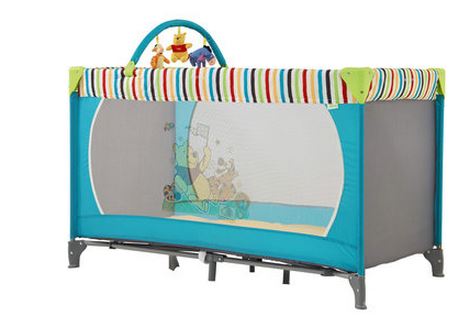 Babies R Us have a Mid-Season sale on at the moment with up to 50% off on loads of items, including the Hauck Winnie the Pooh Dream and Play Travel Cot, which is selling for £39.99 reduced from £79.99. The free delivery limit for Babies R Us is £29.99, so the Travel Cot qualifies for free delivery.
We bought a travel cot for ease of use and because they are a lot smaller than most normal cots, so fit great into a 'box' room and a tent alike. As it happened we ended up as co-sleepers, so it never got all the use we expected it to, but it was good to have as a standby none the less.
The Hauck Winnie The Pooh travel cot and mattress is a compact sized travel cot, so ideal for visiting family or for small hotel rooms. It is a lightweight size, making it convenient for play and travel.
The sides are mesh, which are great for seeing baby from your bed - really useful for not getting up in the middle of the night just to see if your little one is okay... just glance over.
It also has a fun and friendly Pooh bear design. The toy bar comes with three toys, and the whole thing is easily erected and equally easy to fold down from where it goes into it's own carry bag.