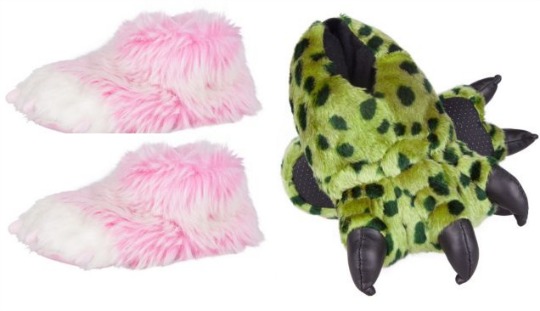 Footwarmers are slippers, right? Or am I missing something? Anyway these Mountain Warehouse Bear/Dinosaur Footwarmers are just £3.99 from Tesco Direct. Want to know how much they were before they were reduced? I'd sit down for this £25.99! What? No way would I ever pay that! Absolute nonsense! They are great for just £3.99 though and would be a nice wee Easter gift instead of chocolate.
Mountain Warehouse are known for their warm outdoor clothing. They wouldn't spring to mind when thinking about slippers that is for sure.
These come in two different designs: a Bear that is pastel pink and very, very fluffy and a Dinosaur that is green with black, ferocious looking claws. Both are made from 100% polyester so should be nice and cosy on little tootsies.
What I will say is that they are no use for kids going up and down stairs as they look very bulky. Although, good for hard floors like laminate.
You can Click and Collect the Mountain Warehouse Footwarmers for FREE from your local Tesco Direct store or pay £3 to have them delivered to your front door.