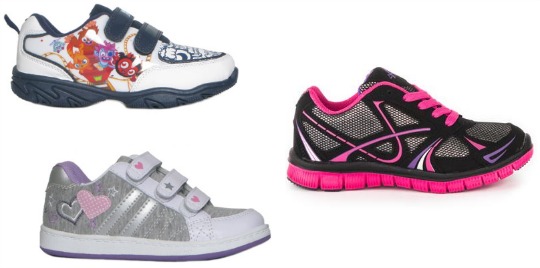 I've chosen three kids trainers here but Shoe Zone have a big sale on right now, delivery is automatically free and you can grab an extra 10% discount using the code WELCOME10. This makes the three pairs I've chosen £4.49 each delivered.
The Boys Moshi Monster Trainers are available in sizes 7 up to 1 (excluding 12)
Girls Black and Pink Lace Up Trainers are available in 8 up to 1.
While the white love heart trainers are going fast but still available in 4, 8, 11 and 1.
Kids might like the designer labels as they get older and while in some instances paying for better quality makes sense both practically and financially - they do sometimes last longer - with the summer holidays here or approaching, £4.49 for a pair of trainers to play out in seems like a great deal. If you're normally a Lelli Kelly or Nike fan you can keep those for occasions and know little ones aren't out playing in £30+ footwear.
Make sure you check out the rest of the Shoe Zone sale, it's got reductions for the whole family, although sizes may be limited.
Little tip, if you see a few things you like and they total more than £15, order the smallest item first using the 10% code (WELCOME10) and when you register Shoze Zone will send you a 15% code on your next order of £15 or more. You can place that order immediately and delivery will be free on both.
You'll find that code for Shoe Zone and lots more over in our voucher section.