One Direction Boot Slippers £2.99 @ Argos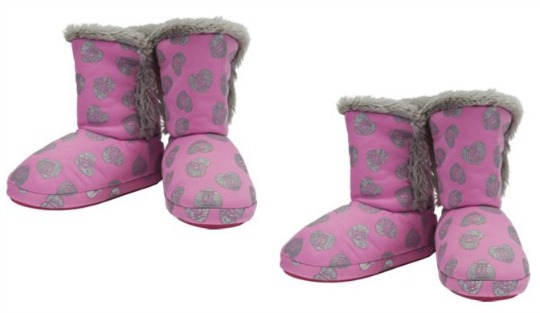 There pink and fluffy and only £2.99 from Argos. The One Direction Boot Slippers have been reduced from £9.99. These are a great bargain for those devoted Directioners, that's a 1D fan for all of you who aren't down with the kids like I am. On looking on these they aren't screaming One Direction so would most likely suit a non Directioner too.
These One Direction Boot Slippers in shoe sizes 2, 3, 4 and 5, which means you can pinch them too mum. They are heavily padded and look ever so comfortable. They are pink on the outside with silver heart 1D motifs all over them.
I am a fan of the boot type of slipper, they are so much more cosy than slip-ons. These ones have a grey faux fur lining and trim so will feel so soft on your weary tootsies at the end of the day. These may look like they can be machine washed but it's not advised. The padding might all gather up in one spot and make them uncomfortable.
You can reserve and collect these One Direction Boot Slippers from your local Argos for FREE, which means you don't have to pay for them until you go down or pay £3.95 for home delivery.