Baby & Toddler Shoe Sale @ Office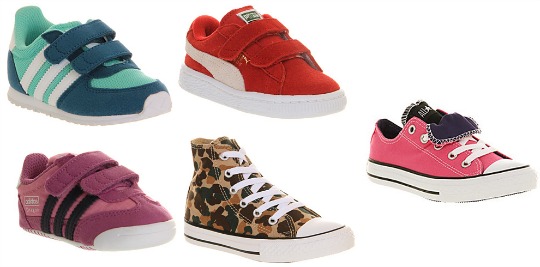 People use to always comment on my middle son's uber cool footwear and often ask how I was able to afford such luxuries as branded footwear. This was because I was a lone parent. Let me tell you that EVERY single pair of Converse, Puma and Adidas worn by my son was from Office shoe sales. You really can pick up a bargain, and they start at £5 a pair! A tip to avoid delivery charges is to order via the Office App, where deliver is ALWAYS FREE.
My little one is nearly eight months, but looking at this sale makes me want to stockpile the fashionable trainers. Here's my favourite bargains from the sale: These Converse Double Tongue Trainers* may come in pink but that does not mean these are for girls only. My eldest insists on lots of pink things because they are "cool". They were £29.99 and are now only £13.60.
If you have a little, trendy baby girl then you MUST buy these adorable Pink Adidas Crib Shoes* at only £11.20. Sizes are limited in these but you might get lucky. For toddlers, for £12.80, you can get the Adidas Racer Bahia trainers*. These look very smart indeed.
I say get yourself over to Office for a nosey at this tremendous baby and toddler shoe sale. Delivery is £3.50 on sale items.
Thanks to Alison G @ HUKD