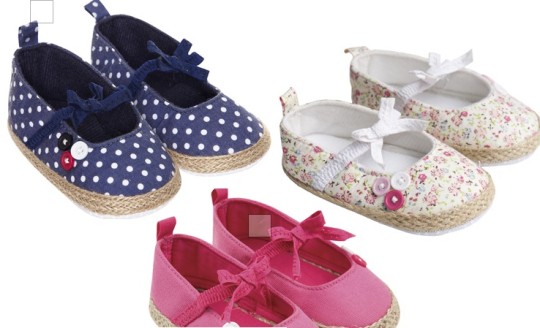 One of the items in the Jojo Maman Bebe sale is a pair of Baby Espadrilles available in the colours above. If you choose one pair, they'll cost you £10, but if you choose two pairs, you'll save £5 and pay £15. Delivery is free, so that's your total price too. They are currently all available in all sizes, 0 - 24 months.
These Espadrilles are really quite sweet, and according to the reviews on it, they are excellent too. One thing I particularly like about it is that they are soft soled enough that they don't inhibit crawling and one of the reviewers actually say that they seem actually stay on, a huge bonus with baby shoes.
They have a cotton upper and sole, and they are meant to be wiped clean.
The baby espadrilles are really cute and sweet, and I'm sure they'll be loved by little princesses everywhere - or at least their doting admirers.