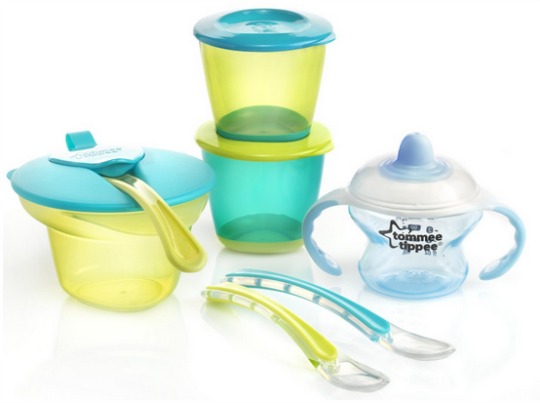 The Tommee Tippee Explora Weaning Kit normally sells for around the £14.99 mark. That massive online retailer Amazon have slashed the price of this baby set to just £7.46. With weaning, little sets like this are handy. I always went down the plastic bowls and spoons route because you can bet your bottom dollar that baby will throw everything on the floor. It's bad enough cleaning your kitchen floor three times a day, having to replace all your crockery would be too much.
What's in the Tommee Tippee Explora Weaning Kit? A First Sips Cup, two First Weaning Spoons, a Cool and Mash Bowl with Lid and Spoon and two Pop-up Weaning Pots. Basically everything you need to start off your weaning journey.
Each piece of equipment are dishwasher, microwave and steriliser safe which is a Godsend for time saving and hygiene. The Cup is non spill and has a soft spout for those little mouths with their soft gums.
To get FREE delivery from Amazon you must spend £10 or more. That means that you need to spend another £2.54 on something like these Munchkin Caterpillar Spillers*.