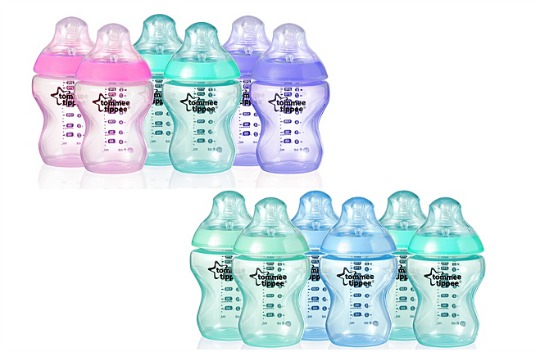 Tommee Tippee bottles can be found in the hands of parents all over the United Kingdom. The Tommee Tippee Closer to Nature Bottles are the choice for many of us who choose to formula feed or feed expressed breast milk. They can work out great value when bought on offer. Amazon have the six pack at just £9.81 just now. The very same bottles but in a set of three for £15.99.
I have used all these Tommee Tippee Closer to Nature Bottles with all three of my sons and I rate them highly. They just ticked all the boxes - easy to clean, helped to prevent excess wind for baby, nice to hold, easy for baby to hold, didn't leak, the list goes on.
This six pack from Amazon contains six coloured bottles: purple, pink and green. They are the big 260ml bottles so these will see baby through from birth to fully weaned.
The teats on these is slow flow which will do baby a good while at the start. They are designed to be a close to a real breast as possible and whether that is true or not I don't know, but I did use them when combination feeding without a hitch.
To get FREE delivery just make sure you add something costing 12p or more, like this Leighton Denny Hoof Stick*.