Tesco Baby & Toddler Event Is Now On! Items Start At 89P Plus Clubcard Boost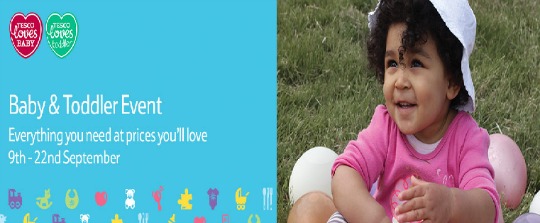 Hurrah! We all enjoy it when those big supermarkets run their baby & toddler events. Today is Tesco's turn as they launch their baby & toddler items at those special prices. This magical happening runs from 9th September until the 22nd of September. From now and then, I expect you all to go daft and stock pile all those cheap baby items. Most of it is included in Clubcard Boost, so think of the bargains to be had if you have points. I will point out that some items are showing cheaper once you actually click on them.
Items start at 89p and there's lots of huge savings. For under a pound you could get the Mum & Me New Mum Arnica Bath Soak, this is £3.65 in Boots. Let me tell you if you want to stick your grazed, sore bits into a bath let it be one with this stuff in. I really soothed me after the birth of Daniel and is even worth it's dearer price tag at Boots. If you know a mum to be then be sure to buy her one of these as well as a present for baby, trust me it'll be the best thing she will receive.
This Red Kite Highchair* is only £19.50, if you need a highchair then don't hang around. If this doesn't sell out then I will be very surprised. Cheaper than Asda too, who are selling this at £23.
The Pampers Stay Dry Carry packs are only £4 in the event, okay not bad but use your Clubcard points to turn this "not too bad" price in to an utter steal. Stock up if these are what you put on baby. The only sizes not included in the event are 3+ and 6+, not too sure why that is.
I grabbed one of the Fisher Price Count and Explore Keys* for only £3.75, this sells for £5.99 in most places so I am chuffed with my purchase. If you are weaning, then these Tommee Tippee Explora freezer pots* are ace at £2.99. Needing a stair gate? Here's a Lindam one* for only £12.50.
Seriously, get your butt over to Tesco Direct because this Baby & Toddler Event has some real BIG savings! Stock will fly especially when you consider all of those Clubcard Boost offers. Save on the £3 postage and collect yours for FREE from your local Tesco Direct.