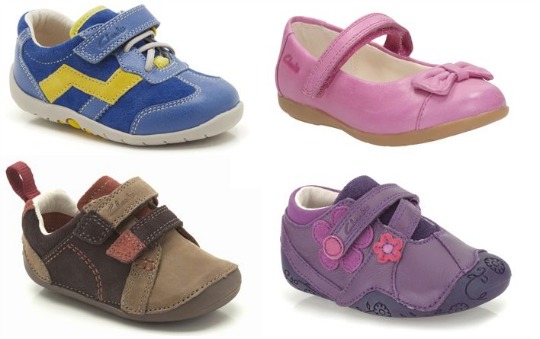 EDIT 17/06/15: Lots of further sale reductions have been made today. ALL children's sale shoes are now £20 or less. 
The first of the big summer sales has started today! Clarks Shoes have big reductions across all ranges, and although they are saying it's up to 50% off I have seen reductions of 65% off kids shoes! You can't say no to Clarks children's shoes for £10 can you? And delivery is FREE!
I don't quite know where to start as the prices are so good. Apart from one style all the infant shoes have at least 50% off, and there are sixteen styles that are just £10! Shoes for older boys and girls have the same sort of huge reductions, so get ordering quickly as they are going to sell fast.
For infant and children's shoes you used to have only the option of collecting from store so that the fit could be checked, but now there is the option for home delivery as well, along with lots of advice on how to check the fit at home.
If you collect in store there in nothing to pay until you collect them, so it's not like a normal click and collect. Home delivery is also free, and there's no minimum spend either.
Thanks to Princess23 @ HUKD