Stocking Fillers: 10 For £10 Surprise Lucky Bags (Or 4 For £24 Delivered) @ Claire's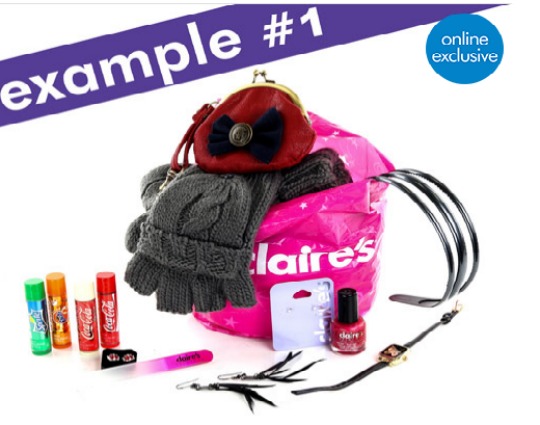 More updates from our Facebook page-thanks Claire, buy 3 and you get 30% discount so £21 delivered and four 40% so £24 delivered.  Just £6 each!!
Update : Thanks to Laura on our Facebook page but if you add two, an automatic deduction of 20% is applied and change the delivery option to Super Saver (£1.99) and 2 will cost £17.99 delivered :)
If you have a teenager or even a tween then get all those stocking fillers bought in one go! Head over to Claire's QUICKLY, and you can grab one of their Surprise Lucky Bag for just £10. It contains ten items and if you click on the link below then you will see different examples of what sorts of things you can get in it. You don't know what you are getting but one things for sure the items add up to much more than £10.
You can get a variety of stuff in one of these bags, but generally they sell exceptionally well, which suggests to me that they are good value. Items like nail varnish, make-up, hair accessories, lip balms, earrings, bags, scarves and much more.
Whether you choose to gift the whole goody bag or split it between a couple of folk, these work out an affordable way of buying Christmas gifts for those awkward tweens and teens.
You can click and collect the £10 Surprise Lucky Bag from Claire's for FREE or pay £2.99 to have it delivered to your front door.