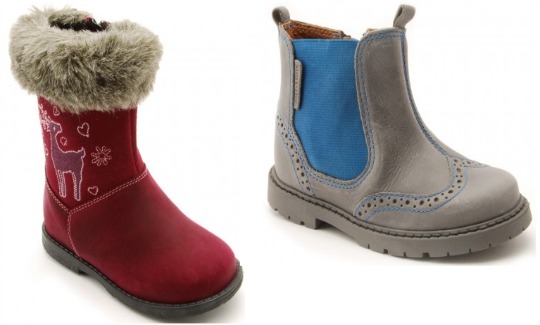 I have some exciting news, the Start-rite Winter Sale is now on! It is MILES better than the Clarks one which was super and very nearly on par with Jones Bootmaker. Items start from just £10.40 so there's bargains just waiting to be added to that basket. This is the brand of choice for William and Kate for beautiful Prince George. So, you know their footwear cuts the mustard, if it's good enough for our future King.
Oh, I am VERY excited about this sale, so much so I could easily sit here and list you every item that is reduced. There's not one hideous pair out of the lot of them, plus the reductions are super.
The May Dark Red Nubuck Pre-Walkers* are only £10.40, and look like they are worth every penny! I quite fancied them for my youngest son as they don't look overly girly but there is a little bow to the front of the shoe.
You have got to love the Petals Grey Leather Riptape Shoe* at just £18. If it's boys' footwear you are looking for then the Harry Green Nubuck T-Bar Shoes*are a steal for just £13. These are meant for babies that are well onto the cruising stage and can help protect little feet,
Delivery costs £2.99, but you won't bat an eyelid paying that when you see what you are saving. The choice is phenomenal and theres a whole range of sizes and width fittings available.
Thanks to Mimosa Miminski @ HUKD