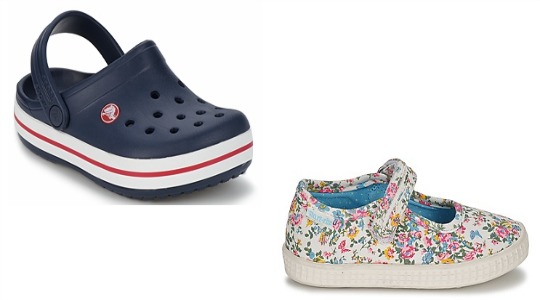 Rubbersole are an online retailer very similar to Schuh. They sell many of the same well known brands and their pricing looks to be around what Schuh charge too. Their sale seems really good with plenty of choice and reductions up to 60%. They offer FREE delivery, plus buy two pairs and get an extra 10% off when you use promo code 2PAIRSat the checkout.
Let me start with the most exciting find in the Rubbersole Sale... those Crocs as worn by Prince George are not only available but are reduced too. THE Crocband Navy with Red Stripe* were £28.34 and are now only £19.84 delivered. Great price for such a sought after pair of shoes.
There are lots of other great buys in this sale too, like these Flossy Pamplona Shoes*for just £9.79 delivered, reduced from £13.99. These Bopy Bomoto Shoes* are an absolute steal at just £14 delivered, they had been £34.99. I am a Bopy shoe fan and have never seen any styles this cheap before.
They have Start-Rite shoes in the sale also, and they start from just £9.59 delivered. I like these Posy Natural Start-Rite Shoes* for only £19.19 delivered.