Poundland Summer Accessories Review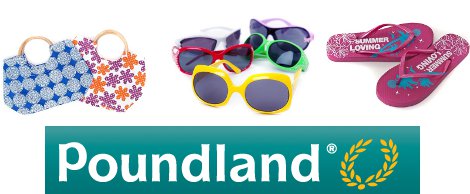 It's holidays again, and I know most of us are desperately looking for ways to entertain the kids. Mine isn't even at school yet, but most of our play centres and toddler groups have shut for the summer holidays, so we're in the same boat!
For those of you lucky enough to be spending summer somewhere that you're sure to have sunshine, we've reviewed some of the 'summer essentials' from Poundland. PlayPennies mum Tabitha was happy to let us use her little girl as a tester for the range, so read on to see how they got on with it.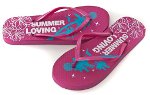 No Summer is complete without a pair of flip flops, so first up were a pair of spotty purple flip flops for mum, and a cute and sparkly pair for Hayley.
Tabitha says "They are good old fashioned flops that have thick soles and are perfect for summer fun and getting out and about." She did have to stick a plaster between her toes – and Hayley's – but, she says, "…if you didn't have flipflop-toe- blisters it would take away the true flavour of summer."
Despite their price, the flip flops lasted the whole time they were testing them, and Tabitha felt rather confident that they would last the whole summer, and maybe even on to be used again next year. Hers, anyway – Hayley will probably have outgrown them by then!
Tabitha rates these a good 9/10 for value for money, and an 8/10 for quality. As she said, it's not Prada, but then it is only £1.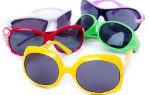 The next summer accessory on the list is the summer sunglasses for kids.
Tabitha felt these were amazing value for money. "They are too cute and definitely for kids. Huge pink pairs with diamonds, pink with sparkles, red with sparkles, plain white, plain yellow and more. There is a lot to choose from and they come in different sizes to suit different face shapes."
These are definitely for girls, then!
Tabitha said that Hayley loved these, especially the big style ones, ala Nicole Richie, which she thought looked hilarious.
While they do apparently provide some UV protection, I must admit I'm not personally a fan of cheap sunglasses as I do worry about the effect they have on developing eyes, but on the up side, Tabitha thinks they're great value for money "especially since you won't care if they get dropped, stood on or scratched by the sand." And at least they'll keep sand out of those developing eyes!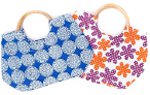 Of course, you need something to keep those flip flops and sunglasses in, and for that, Poundland have on offer a fantastic range of summery handbags.
"These are absolutely fantastic value for money and they are completely brilliant for beach holidays," Tabitha told us.  Apparently you can fit quite a bit in these bags – a bit being relative. For example, you couldn't fit a novel and a Kindle and your make up bag.  But you could carry your lotion, flip flops and sunglasses – or a book. It depends whose bag it ends up being.
Hayley claimed it as hers from the get-go, and Tabitha had to make her own arrangements for the beach.
"The designs are lovely and the wood circle grips too cute for words. The kids love them and my daughter has appropriated it as her very own handbag that she takes everywhere with her. It is adorable."
Tabitha gives the handbags with wooden handles, or grips, 9/10 for value for money – losing a single point for the weave of grips, which scratches a little as it catches on to things. But for cuteness, amazing price and a great summer buy, she gives it a full on 10 out of 10.
Of course, no summer holiday is going to go by without a few rainy days indoors, so Poundland also have some fun stickers and stationary sets to keep little girls busy in doors.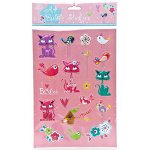 The Bubble Stickers we sent Hayley were a hit. They are a cute kitty design and in the A4 page set there are bubble flowers and birds in lovely designs that Tabitha says are "really quite captivating and arty".
They come on a pink or blue background and there are two pages per pack.
"I love these and think that they are superb value for money".
There's also a green superhero range and Tabitha thought these would make a great gift or a fab pass the parcel gift.
For value these got 10/10 from our PlayPennies mum, but for quality they only got seven as they didn't stick for long and wouldn't re-stick after one application nor would they adhere to certain surfaces.
You can find your nearest Poundland by visiting the store finder on the website.