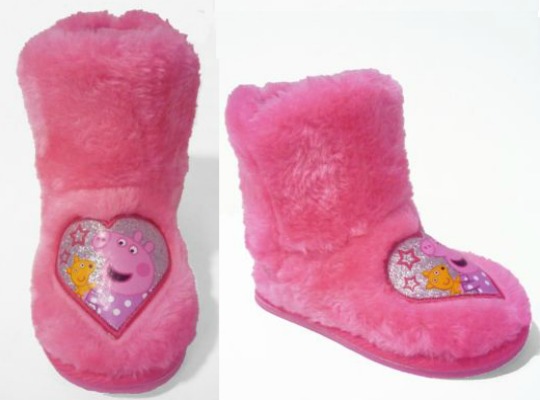 We have found these Peppa Pig Slipper Boots and they are only £2.49. These were £2.99 and originally £9.99. They are cute, fluffy and cosy. If you know a little Peppa Pig fan (everyone knows a Peppa fan) then you just have to buy these.
These Peppa Pig Slipper Boots are available in sizes five through to nine. They are VERY pink and VERY fluffy, with a sparkly silver heart motif featuring Peppa Pig herself.
I very rarely spend a lot on slippers for my boys, they grow out of them so quickly but I cannot have them without any. On laminate flooring it's better to wear something on your feet. These are like my pink fluffy slippers and honestly, they are so comfortable.
They are not too big on the foot. You don't want kids falling over because of their slippers. These really are a bargain at just £2.49.
You can reserve and collect the Peppa Pig Slipper Boots for FREE from you local Argos store and you don't have to pay until you are there. If you would prefer to have your slippers delivered then it costs £3.95.