Original Satchel Store Review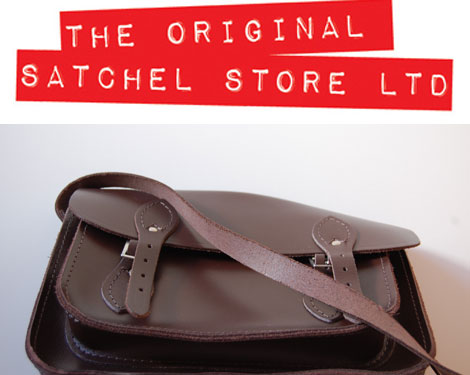 I can't help it - say the word 'satchel' to me and I think of Vincent who I sat next to in my infants school class.
So I was rather intrigued to see whether the satchel from the Original Satchel Store we sent out to PlayPennies mum, Tracy, really was, and I quote, 'bang up-to-date' in its various moody Autumn colours.
Can there really be a cool, trendy and sophisticated modern spin on the old classic school bag!? (I still can't get the image of Vincent and his satchel out of my head).
"Ohhhh, I can't wax lyrical about this product enough! This satchel is beautiful!" gushed Tracy, she's not one to underplay things or beat around the bush!
And this about a review copy which wasn't completely finished - it didn't have the glossy shine that you'll see on the satchels on the Original Satchel Store website.
We made Tracy aware of this and and she didn't mind.
"I have to secretly admit that I rather prefer it the lack of shine, it gives it more of rugged look and the smell. OH MY, the smell. How I ADORE the smell of leather!"
I can totally relate to that and have spent far too long in shops sniffing all things leather; chamois leathers are a particular favourite and they're so s o f t too...but I digress!
I'm one of these girls who deliberately keeps my handbag small otherwise I'd end up carrying my entire life around with me. Tracy told us that the satchel is rather like a leather Tardis, being deceptively roomy for its size.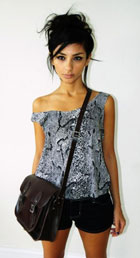 "I am quite a hoarder and tend to stuff loads of things into one bag and then spend hours and hours scuffling around in there to find them again.
This doesn't stop the scuffling but, and this is a biggie, it is ideal for my iPad, Kindle and netbook. I can fit all three of them in at once if I don't put anything else in. Or just two of them and some lippy, perfume and mobile."
We chose Tracy to review the satchel from the Original Satchel Store on purpose, as she's a self-confessed bagaholic.
She's has more bags than...well, more bags than your average bag shop and she's very particular; we knew the Original Satchel Store satchel was going to have to seriously prove itself, or die trying!
"The other thing about this chap is the way it looks. No matter WHAT I am wearing it works with it. How many bags can you say that about?
Yeah, thought not. I usually have bags for fun, bags for business, bags for out etc." See, told you...
There are three sizes of satchel for you to choose from 28cms satchel (£65), 33cms (£70) or the big 38cms version which costs £77.
"They are quite expensive but, honestly, worth every penny," Tracy told us, "The stitching is superb and the finish is lovely. Even if mine wasn't the ultimate finished product you can see it will last and last and last; it has become my nearest and dearest for the school run!"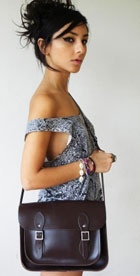 The Original Satchel Store tell us that they only use the highest grade British leather and fixings for their satchels; traditional-style buckles are used as closures, which make the satchel secure, and the straps adjust able so they fit different shaped bodies.
We asked Tracy to give the satchel a proper run for its money and not to just sit and stroke it, we wanted to make sure it was robust enough to stand up to the most rigourous abuse.
"I LOVE this satchel so much, that being mean to it made me cry.
But in the line of duty I stood on it and pulled the handle (I wish you knew how HARD that was for me but I did it), I  jumped on it, dropped it, kicked it and sat on it. It is still solid as ever, I'm VERY impressed!"
And finally...
Well, there's not really much more to add to that is there!
Tracy is utterly smitten with her Original Satchel Store satchel and whilst she acknowledges it's not the cheapest bag in the world, she feels it's absolutely worth the investment.
"It will definitely last for years and years and then some more years after that, even if you are asked to abuse it," Tracy concludes.
Abuse of YOUR satchel is optional, of course, and it would seem that, YES, the satchel IS cool and bang up-to-date ; as far as Tracy is concerned everyone should have one.
www.originalsatchelstore.co.uk