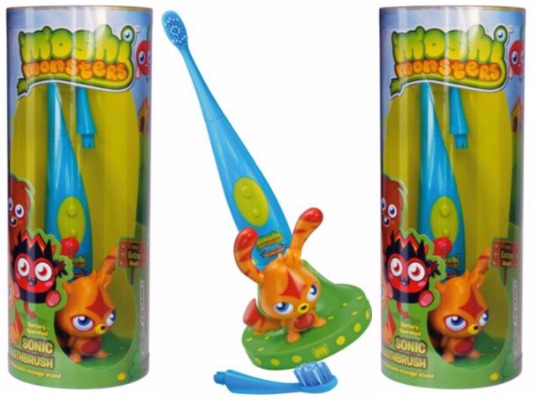 Everyday me and my eldest two fall out over teeth brushing. I on the other hand love brushing mine, it's never a hardship. I have found that by buying them fun toothbrushes it makes the battle that bit easier. If like me you have more than one reluctant child, then it can be an expensive do buying these fancy toothbrushes. Nip over to Tesco Direct and you can get THREE Moshi Monster Sonic Toothbrushes for just £5. They are £2.50 each but are currently on 3 for 2, which makes them work out at just under £1.67 each.
The Moshi Monster Sonic Toothbrush is battery operated and requires one AAA battery. This fun toothbrush has been rated 4.6 stars on the Tesco Direct site and is said to "encourage children to brush their teeth" in the reviews.
With gentle vibrations the Moshi Monster Sonic Toothbrush gives the user a bit of a helping hand when it comes to cleaning their teeth. The handy Katsuma stand is appealing and you get a replacement head included in the pack too.
You can save on the £3 postage charge by collecting your Moshi Toothbrush from your nearest Tesco.
Thanks to GHAZI786 @ HUKD