Minnie Mouse Dress & Leggings Set/Shoes £6.66/£6.99 @ Argos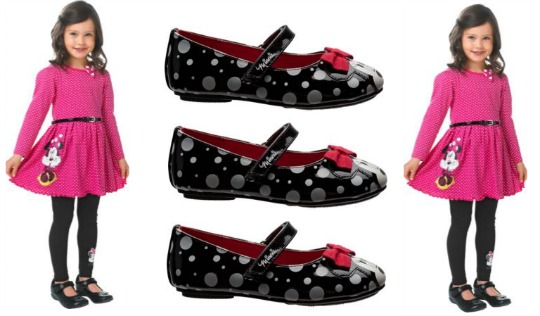 If your little Princess is a Minnie Mouse fan and has a full social calendar for the next wee while, then boy do we have a treat for you. This Minnie Mouse Dress & Leggings set is a bargain at just £6.66. Argos have reduced the price of it down from £9.99. To be honest, from the photo, it looks worth it's original £10 price tag. If you would like matching shoes, then you are in luck. The Minnie Mouse Ballerina Shoes were £9.99 and are now only £6.99. Buy them together and you are saving £6.33.
The Minnie Mouse Dress and Leggings set would be ideal for a party or even for Christmas Day. The dress is bright pink with a polka dot pattern. There's a Minniesque bow on the colour and a Minnie Mouse motif to the front. You also get a nice black belt to match the black leggings. On the leggings is another MM motif. Sizes available are 5-6 and 7-8 years old. You can get age 3-4 but it's still full price at £9.99!
The shoes black patent with white polka dots and a bow on top. These are very cute as well as mega girly. Even if you don't buy the dress, these are still a fab buy in their own right.
Reserve and collect your items from Argos for FREE or pay £3.95 for delivery.
Thanks to taswir1 & Blackberry786 @ HUKD