Massive Savings On Branded Kidswear Starting From £1.79 @ MandM Direct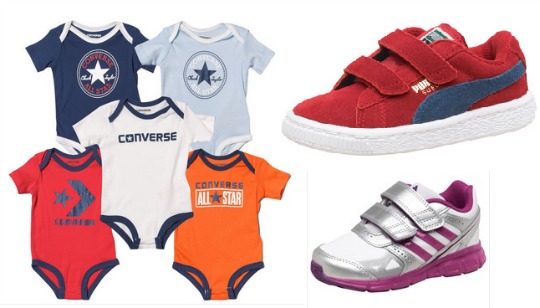 We all love brands, I am brand daft. I don't like paying silly prices for children's brand name clothes. Not because I am heartless, but because they ruin them.  MandM Direct are the perfect solution, with their massive savings on branded kidswear. Items start from just £1.79 and they have our favourite brands like Puma, Converse, Adidas, Bench and many more. What's even better is that if you enter promotion code HBA1 at the checkout, you get FREE delivery when you spend £30 or above.
At MandM Direct, you will find a lot of "stuff" that you will find garish or of no use, BUT look carefully and you will find some absolute steals, like their baby Converse range. Starting from £4.09 for this adorable little baby girls T-shirt*. There's heaps and heaps of good savings, and when you compare the prices to non branded babywear, it is MEGA good value. Check out these Converse Pk of 5 baby bodysuits, girls here*and boys here*, for only £9.99.
Puma trainers are popular with little people. They start at £15.29 a pair, and stock from a junior 3 to a big size 2. You can check out the Puma shoe range here*.
What I will say is that due to the massive savings sizes are limited cross the site, but do have a right good nosey to find those really GOOD bargains. Don't forget to use promotion code HBA1, if you are spending £30+ on items and get it delivered for FREE.
Head on over to our vouchers section, where you will find lots of discount vouchers, codes and so much more.