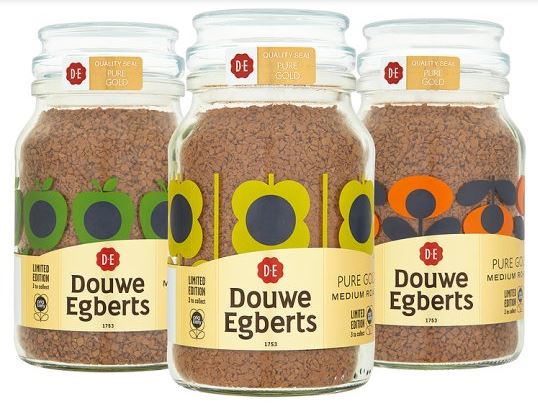 Orla Kiely fans look out! Douwe Egberts have teamed up with Orla Kiely to produce a limited edition coffee jar series, as pictured above.
I just stumbled on to these today, but it turns out they've been around for a while, and Orla Kiely Facebook groups have apparently been going crazy searching for them. They're even up to twice their face value on eBay already.
The Limited Edition Orla Kiely jars are available in the green and orange as dark roast, and the yellow jars are available in the medium roast, and they should be available at most supermarket chains, including the Co-op and Tesco. That said, they seem to be rare and are being snapped up as they hit the shelves.
These jars are excellent for storing small amounts of left over flour, pasta or other 'bits' that end up in a bag in the back of the cupboard. They're quite pretty to look at even without the artwork, and you can remove the plastic from lid and pop something inside, then return the plastic and have decorated lids - my mum used to fill hers with seashells from her trips around the world.
Just have a look at #DELovesOrla on Instagram to see how lovely these look in use