Lee Stafford 2200W Blow Dry Wonder Kit £11.29 @ Argos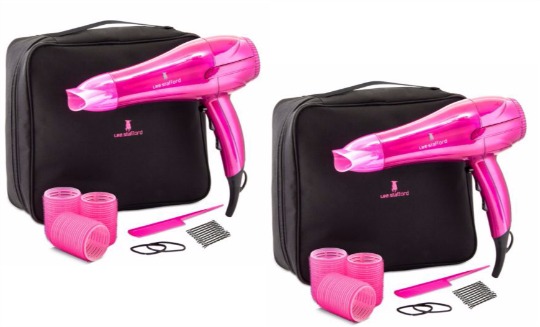 If you are in need of a Hairdryer or have a teenager living under you roof, then we have a great deal for you. Argos have reduced the Lee Stafford 2200w Blow Dry Wonder Kit from £39.99 to £11.29. That is one heck of a saving. Whether it was ever worth £39.99 is debatable but it is a steal at just £11.29. Stock levels look good so there's a great chance of bagging one from your local Argos.
I love a big, bouncy blow dry and it's something that's always going to be seen as glamorous. The Lee Stafford 2200w Blow Dry Wonder Kit contains everything you need for that perfect hair style.
You get the MEGA Pink Lee Stafford 2200w Hairdryer, a tail comb for sectioning and back combing hair, large Velcro stay-put rollers that can add height at the root, hair grips for pinning and bands and Lee Stafford storage and travel bag. The fact that this comes with a bag is a major bonus, it not only keeps it all together when you aren't using it but it makes it easy to transport.
Reserve and Collect this lovely set for FREE from an Argos store or pay £3.95 for home delivery.