Hello Kitty Charm Bracelet £7.49 @ Argos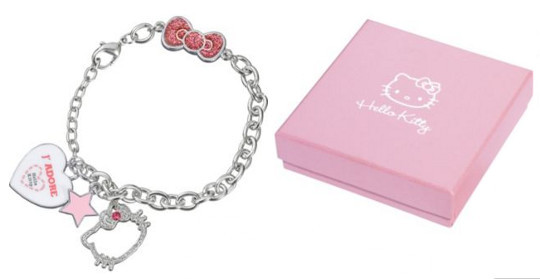 Argos have a Hello Kitty Charm bracelet on offer. It was £14.99 but is now £7.49 and would make a superb stocking filler. There seems to be plenty of stock too.
I have a couple of bracelets in the cupboard that have been given to my daughter for her Christening, first birthday and so on. They are absolutely gorgeous, but the thing is, I really rarely let her wear them, because they are so special to me that I'm terrified of her losing them. By the time I will be willing to trust her to wear an not lose them, I'm pretty sure she'll not be able to fit them around her arms anymore! But at least she'll be able to look at them when she's all grown up, and tell her children that she wore them as a baby.
Of course, in the meantime, if you want something your little one can wear, where there won't be massive sadness if it's lost, then this is a great little bracelet, with charms, and perfect for any Hello Kitty fan.
Thanks to munnski at HUKD