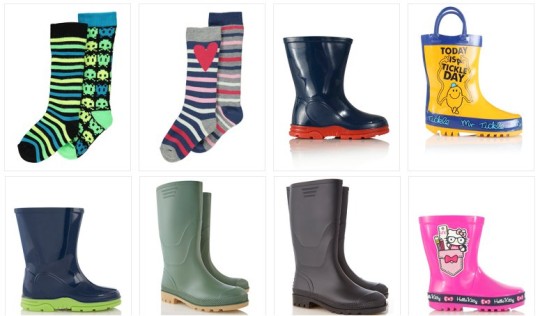 ASDA have a sale on kids wellies (and welly socks) for £5 instead of £9. The sale goes instore tomorrow, but for today it's just online, so ...
Click and collect is free, but delivery is £2.95.
These aren't the most exciting wellies you'll ever find, and it seem like the character ones aren't included in the sale, at least not the online one, but to be honest, if you're just after some shoes to get them through the next growth spurt and keep their feet dry, £5 wellies are the way to go.
Mr Tickle Wellington Boots* are about the only 'characters' available, but there's a nice looking blue and green Wellington Boot available, as well as a good blue and red Basic Wellington Boot*.
Hopefully the rest will become available tomorrow.
I do love the 2 Pack Alien Welly Socks* for £4 though, as Space Invader Welly Socks*.