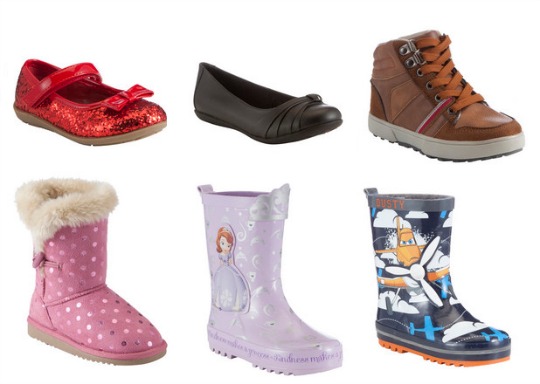 It looks like there have been some further reductions on some sale items at Tesco, and kids shoes are now selling for as little as £2! There are even a pair of pre walker boots for £1.50! These aren't going to be as good quality or fit as Clarks or Start Rite, but lots of kids have one or two main 'good' pairs and then get wellies or party shoes that will only be worn occasionally from cheaper ranges - it's just to expensive to buy Clarks for every pair they need.
The sizes left are a bit hit and miss, but there are pumps for £2, wellies from £3, trainers from £3.50, school shoes from £4, and boots from £6. If you are lucky and the sizes your kids need are in stock you could get a couple of bargains in this sale. The discounts are not marked correctly to reflect the recent reductions - some still say 50% off but the discount is 75% or even more!
There's a few different styles of wellies to choose from, and that's the type of footwear that kids need all year round with our lovely climate, so I try and grab the next size up for my kids when I see them at a good price rather than having to pay full price when they actually grow out of their current pair. I'm sure people think I'm mad having new shoes stacked in the kids wardrobe that they won't wear for months, but it saves a lot in the long run.
Thanks to chellewatson @ HUKD.