Hunter Kids Classic Welly £19 Delivered @ Hunter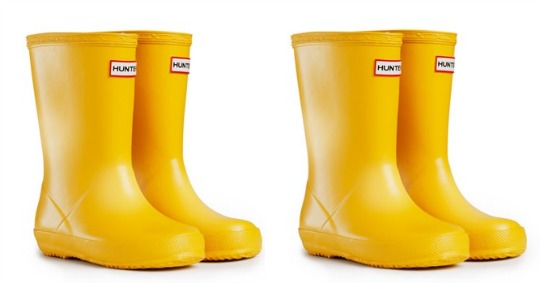 I know Hunter wellies are still popular with a lot of you, so when I saw these I knew I had to post them on here.
Direct from Hunter you can get these classic kid's wellies in an impressive yellow colour for just £19.60 delivered. They were originally £32 from them but you can find them elsewhere for around the £25 mark.
Available in childs size 9 right through to size 1. Maybe, now is a good time to grab a pair before they are at premium price for the colder seasons.
Built on an orthopaedic last and made out of natural rubber, these are said to be very good quality as far as wellies go. I cannot vouch for this as I have never bought them. However, lots of farmers around here wear them so I am guessing they aren't just a fashion item but, are actually a good wellington boot.
I do love these and a lot of the trendy kids around these parts have them. Even though it's summer, wellies are always handy to have.
We go on a lot of walks, regardless of the weather, we are out and about. The kids love it and let's face it the fresh air tires them out. I am all for that, especially in the summer holidays.